Stockton Rush wore a hard-hat and stood next to one of his submersible crafts last year full of enthusiasm as he told a bunch of students about the thrills and perils of being a deep-sea explorer.
"The key element in any expedition is you got to be thinking, what could go wrong? What can I do to mitigate that risk," Rush told the students via a live web stream prior to one of his voyages. Despite such planning, he conceded, "something always bites you that you didn't expect."
Rush, the CEO of OceanGate and the pilot of the ill-fated Titan submersible that imploded this week diving to the Titanic wreckage, understood the dangers of his endeavors.
And his comments to the students seem tragically prophetic.
A US Coast Guard official said Thursday authorities had begun to map the debris of his vessel about 1,600 feet from the Titanic wreck. However, since the catastrophe occurred in international waters, authorities are discussing how an investigation would unfold, the official said. But experts agree that any inquiry is sure to question the design of the craft, the materials used to build it and whether Rush and his company should have done more to avert such a deadly outcome.
A CNN review of OceanGate's marketing material, public statements made by Rush and court records show that even as the company touted a commitment to safety measures, it rejected industry standards that would have imposed greater scrutiny on its operations and vessels. The company also boasted of collaborations with reputable institutions that have since denied partnering with OceanGate on the submersible in question.
Some industry experts said OceanGate's operations were known to be risky.
"This was a company that was already defying much of what we already know about submersible design," Rachel Lance, a Duke University biomedical engineer who has studied physiological requirements of survival underwater, said on CNN Thursday. She noted some of the vessel's design materials "were already large red flags to people who have worked in this field."
OceanGate declined comment on its safety record.
'Once in a lifetime opportunity'
To the public, OceanGate's marketing sought to appeal to potential customers' sense of adventure while also assuring them the adventure was safe. They featured scientists or explorers praising the company's innovations. One flashy promotional video, published last year, opens with a voiceover boasting an unforgettable—but safe—voyage: "OceanGate Expeditions offers you the once-in-a-lifetime opportunity to be a specially trained crew member safely diving to the Titanic wreckage site."
That video also features explorer Paul Henri-Nargeolet, who was among those who died this week, praising the design of the doomed vessel.
"The sub, for me, it's very well done because it's simple," Nargeolet said. "Usually they have a lot of equipment and a lot of switches, and on this one you don't have because you work with a screen and a keyboard and it's very easy to do that."
That simplicity was highlighted late last year when Rush invited CBS News reporter David Pogue on a voyage, in which Rush admitted that he bought parts for his craft off-the-shelf at stores such as Camping World.
In online videos, Rush explained the Titan's unconventional design, which he said included carbon fiber to increase the vessel's buoyancy. It "hasn't been used in a crewed submersible ever before," he said in a video last year.
The Titan also included an "unparalleled safety feature" that monitored the integrity of the vessel's hull during each dive, according to OceanGate's website. A 2021 press release highlighted its "multiple, redundant safety systems."
But in a separate interview with Pogue, Stockton seemed dismissive of safety.
"At some point, safety just is pure waste," Stockton said. "I mean, if you just want to be safe, don't get out of bed. Don't get in your car. Don't do anything."
Two former Oceangate employees separately voiced safety concerns about the Titan. David Lochridge, who worked as the director of marine operations between 2016 and 2018, claimed in court filings that he had expressed apprehension about the submersible's design and the company's testing of its hull before he was terminated.
Lochridge also questioned OceanGate's plans to install a monitoring system on the vessel to detect the start of hull breakdown. His court filing argued "this type of acoustic analysis would only show when a component is about to fail—often milliseconds before an implosion—and would not detect any existing flaws prior to putting pressure onto the hull."
Court filings from OceanGate suggest there was additional testing after Lochridge left the company. It's unclear whether his concerns were addressed. OceanGate terminated his employment and sued Lochridge in 2018, arguing he shared confidential information and used the company for immigration assistance then manufactured a reason to be fired. The company's suit stated Lochridge is not an engineer but a submersible pilot and diver.
Another former employee who worked briefly for the company as an operations technician during the same time period as Lochridge also had concerns about the hull's thickness and adhesion, he said, speaking to CNN on the condition of anonymity.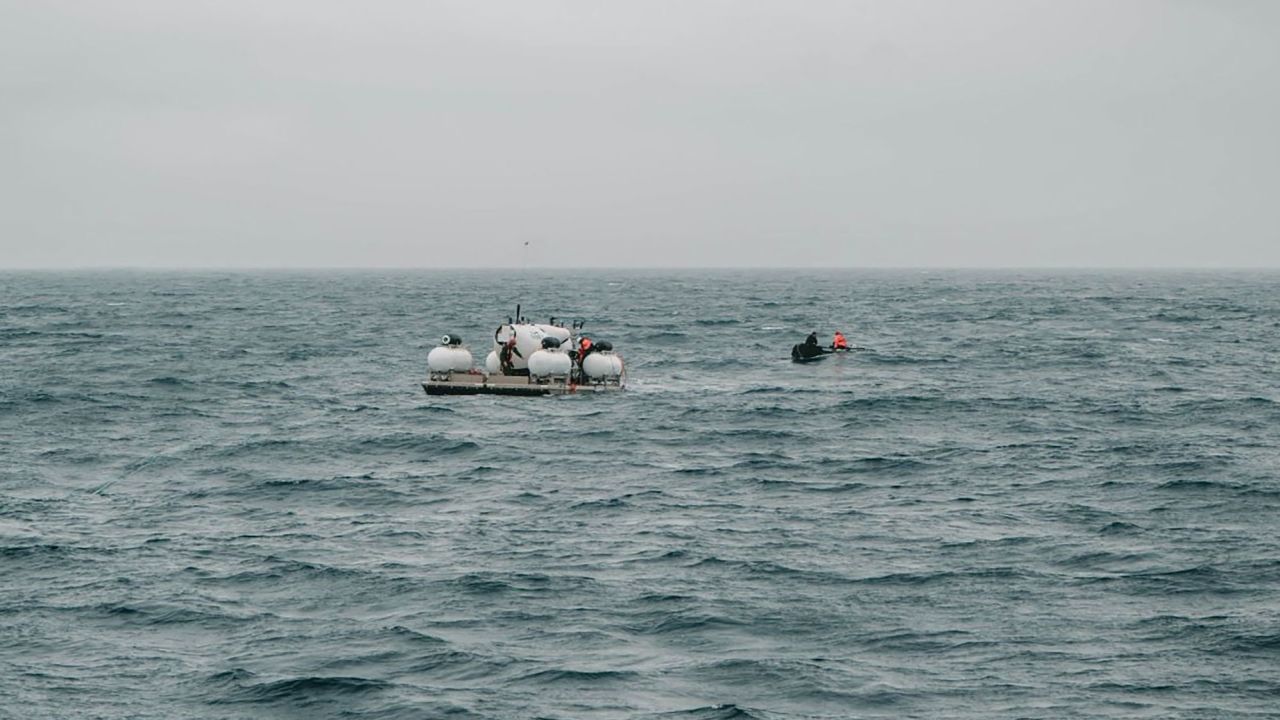 Lance, the Duke University professor, echoed some of these concerns. She said the unconventional combinations of materials used in the Titan posed safety risks because "over the course of repeated pressurizations, they tend to weaken."
"This is not exactly what, in my opinion, would be innovation because this is already a thing that has been tried and it simply didn't work," she said.
It's unclear how many total deep-sea voyages the Titan took, though a court filing from a company adviser in November said the five-person submersible had taken 28 people to the Titanic last year.
OceanGate appears to have also overstated its relationships with two institutions widely respected for their innovation: Boeing and University of Washington.
OceanGate's website touted a partnership with Boeing, stating that its Titan was "designed and engineered by OceanGate Inc. in collaboration [with] experts" from Boeing and other entities. Similarly, OceanGate claimed in a 2021 court filing that the Titan was built with the help of University of Washington's Applied Physics Laboratory.
Both Boeing and UW denied partnering with OceanGate in the development of the Titan.
OceanGate had partnered with UW to create a different submersible before parting ways, the university said in a statement. The company also used testing tanks at the UW School of Oceanography for nine tests between 2016 and 2022, according to Victor Balta, the spokesperson for UW. The tanks were used on a contract basis and no university researchers were involved in those tests and "UW personnel did not provide any verification or validation of any OceanGate equipment as a result of those tests," Balta added.
OceanGate co-founder Guillermo Sohnlein, who left the company in 2013 and wasn't involved in the development of Titan, cautioned Friday against jumping to conclusions on what caused the catastrophic loss of the submersible.
"Safety was always number one priority for us and for Stockton in particular—he was a very strong risk manager and I believe that he believed that every innovation that he created whether technologically or within the dive operations was to both expand the capability of humanity exploring the oceans while also improving the safety of those doing it," he told Anderson Cooper on CNN This Morning.
Breaking the rules
Rush appeared to enjoy pushing boundaries. While he sometimes spoke about exercising caution, he viewed industry standards as a roadblock to technological advancements in the field of exploration and he once acknowledged to a YouTuber that he had "broken some rules" to build the Titan.
His company also alarmed industry veterans by declining to class the Titan, a routine inspection process that would have provided a layer of oversight. "You are taking on a lot of risk and the risk you are taking might affect the entire industry," said the president of the industry group Marine Technology Society's submarine committee, Will Kohnen, who recalled to CNN concerns he conveyed to OceanGate founder Rush in 2018.
If OceanGate had pursued a certification review "some of this may have been avoided," Kohnen told CNN on Wednesday.
Because the Titan was diving in international waters, the vessel appeared to operate in a regulatory gap.
"It is a gray area that is being exposed to the light of day," said Sal Mercogliano, a professor at Campbell University in North Carolina and maritime historian.
The Titan's lack of credentials was noted in legal waivers OceanGate asked customers to sign before voyages. The company reportedly warned that its newest submersible had "not been approved or certified by any regulatory body" and that a dive "could result in physical injury, disability, emotional trauma or death."
Mike Reiss, who was one of Rush's clients, said he was aware of the perils.
"Before I boarded the sub, I signed a lengthy waiver detailing all the ways this trip could kill me: asphyxiation, electrocution, drowning, crushing — death was mentioned three times on the first page," Reiss wrote in an op-ed for CNN. "I kissed my wife goodbye before I left, thinking I might never see her again."
It's still unclear what led to the catastrophic implosion that killed Rush and his passengers. But a US Coast Guard official suggested in a news conference Thursday that existing safety rules would be reviewed.
"This is an incredibly difficult and dangerous environment to work in out there," Rear Adm. John Mauger said.
Rush had no illusions about those challenges.
"You've just got to roll with the punches," he told students in the live-stream video last year. "That's the attitude we really look for with people who join us, is (to) see a problem as a challenge, not as a reason to hide."
CNN's Gabe Cohen, Brad Lendon, Greg Wallace, Veronica Miracle, Allison Morrow, Rob Frehse, Paul Murphy and Celina Tebor contributed to this report.